Our 6th Annual No-Tap Tournament in honor of Linda Schumacher is this Saturday, Sept 21st. All proceeds go to our Jewel City Juniors. Check-in is at 4:30pm, tournament starts at 5pm. For those that don't know Linda, she worked the bar at Jewel City Bowl and passed away a few years back. She was a HUGE supporter of the junior program and to keep our promise to her to hold an annual tournament to raise money for our junior program, we need everyone there! Please sign-up for this tournament... $25 per bowler. She was always thinking about the kids and the future of the sport of bowling. See you there!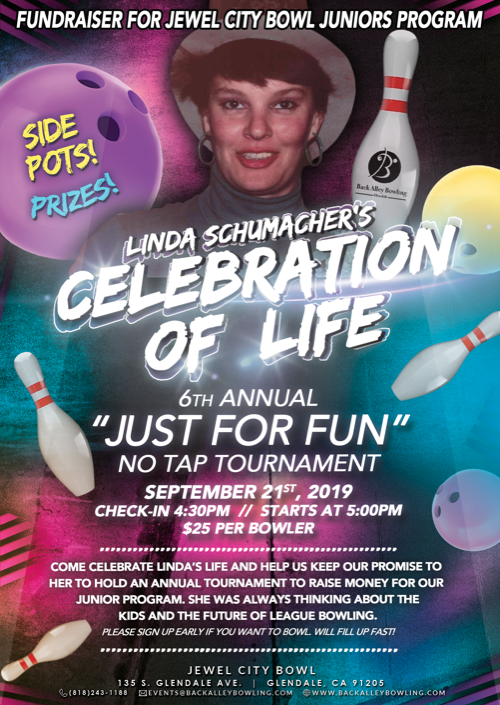 Hi Parents and Junior Bowlers!
This Saturday, 8/24/19 is our award ceremony. Congrats to all the junior bowlers who placed this season. Below you'll also find a link to Winter Season teams.
2019 Summer Awards
1st Place - Team 10
Adreian Olango
Andrew Olango
Aaron Calica
2nd Place - Team 1
Sean Sinor
Nate Pfenninger
Daniel Fritz
3rd Place - Team 5
Zane Piper
Olivia Castaneda
Ben Dinenberg
Male Season High Hdcp Series
William Francisco - 595 + 147 = 742
Male Season High Hdcp Game
Ben Dinenberg - 300 + 6 = 306
Female Season High Hdcp Series
Olivia Castaneda - 443 + 282 = 725
Female Season High Hdcp Game
Siouneh Baghasa - 154 + 111 = 265
We also have an appreciation plaque for
Angel Moran
. This was his last season with us... We're going to miss you
Angel Moran
l! Come visit us anytime!
Here are the Winter Season Teams (subject to change):
After clicking the link, below the spreadsheet you'll see a tab for the Junior League and another tab for Elite. Yes, winter season we have 2 separate leagues. A few Junior bowlers did graduate to Elite (bowlers to be announced on Saturday... congratulations! and great bowling juniors!)
IMPORTANT: Uniforms is always MANDATORY during winter season! $1 fee for bowlers without approved Jewel City Junior uniforms.
Any questions, feel free to reach out to me!
It's also Beat Your Coach, Pizza Party starts at 11:30-11:45am, then the award ceremony. Optional practice after... See you all this Saturday!
Coach UBuild Lenon
Hi Parents and Junior Bowlers!
State Tournament is Here!  For those not participating, there is a bye.  For those that were planning on bowling our end of the month Scholarship Tournament at Jewel City, it's been moved to Aug 4th at Jewel City.
Keynotes for State Tournament participants:
Meeting time is at 8am at Jewel City Bowl, bus leaves at 9am sharp!
No parking is allowed in the parking lot.  You'll need to find street parking.
All junior bowlers are required to were the yellow Jewel City Bowl uniforms.  (if you don't have one, black collar shirt with dark bottoms.
No glass bottles on the bus
We have a 10pm curfew.  All junior bowlers will need to be in their hotel room by 10pm
Check-in:  Once we get there, we (the directors of the program) will get all the room keys then we will pass them out to all the parents.
Coaches Relief Tournament is open to parents as well.  For more info click here
Those participating in the Kings and Queens or the Coaches Relief Tournament will probably miss the pizza party at Shaky's.  The Tournament will start shortly after Team Event on Saturday.  After Team Event on Saturday, the buses will take the group to Shaky's Pizza.
All Junior Bowlers will HAVE TO RIDE on the bus FROM THE HOTEL TO THE BOWLING ALLEY
Junior Bowlers, please don't forget Lane Courtesy.  Parents, please remind your kids.
Any questions, you can call or text me at (213) 210-7341.
Here's our itinerary for State Tournament:
8:00am – Meet at Jewel City Bowl / Load Bus / Head Count (since we're leaving Friday morning, you can not park in the parking lot. You'll need to get dropped off or find street parking.)
9:00am – Bus leaving to Holiday Inn Express
11:00am – Rest Stop #1 – 15 mins
1:00pm – Rest Stop #2 – 45 mins Lunch
4:00pm – Rest Stop #3 – 15 mins
6:00-7:00pm – Arrive at Hotel
2:00pm – Leave Holiday Inn Express to Tyme to Bowl Lanes
2:30pm – Check In / Pictures
3:30pm – Team Event Starts
7:00pm – King's & Queens and Coaches Relief Tournament (Optional) – Bus #1 Staying with Bowlers bowling in the tournament
7:00pm – Bus #2 Dinner at Shakey's Pizza then back to Holiday Inn Express after party.  Note:  Bowers bowling the Kings & Queens Tournament or the Coaches Relief Tournament will more than likely miss the pizza party.
10:00pm – Bus #1 going back to Holiday Inn Express
10:00am – Load Bus (not going back to Holiday Inn Express after tournament)
11:00am – Leave Holiday Inn Express to Tyme to Bowl Lanes
12:30pm – Doubles/Singles Event Starts
3:30pm – Load Bus / Lunch
4:00pm – 4:30pm – Leave Orville to Jewel City Bowl
6:00pm – Rest Stop #1 – 30-45 mins (dinner?) or just do 20 mins
8:30pm – Rest Stop #2 – 15 mins
10:30pm – Rest Stop #3 – 15 mins
12:00am – Arrive at Jewel City Bowl
This will be an action packed weekend… Let's have fun but more importantly, let's be safe!!!  We're group, so watch over each other!  See you guys soon…