2018 Winter Playoffs
Playoff Rules and Guidelines:
4 rounds of qualifying (all league weeks in April; 6th, 13th, 20th & 27th)
Top 8 will make playoff round to be held during our sweeper week (May 18)
Handicap based; 100% of 200 for Elites, 100% of 150 for Juniors
Playoff average will be sheet average as of April 6, that average will be used for all qualifying rounds
If a bowler is absent, qualifying score used will be minus-20 from average
Results will be posted every week through our media sites and at the bowling alley each Saturday morning
If a bowler qualifies in the Top 8 and cannot make the finals, then all bowlers will move up one spot in ranking
Playoff format:
Will consist of a quarterfinal, semi-final and final using the three games during league play; Game 1 will be the QF, Game 2 the SF, Game 3 the final.
Playoff format will be bracket style. In top half of bracket #1 v. #8 and #4 v. #5, in the lower half, #3 v. #6 and #2 v. #7.
Bowlers will bowl on league assigned lanes for sweeper, so they may not be bowling head to head during a playoff match.
Prizes will be awarded via gift cards or certificates. Value of prizes will be $100 for 1st, $50 for 2nd. Free games will be awarded to 3rd/4th.
Week 1 Standings
Week 2 Standings
Lots of movement from Week 1 of the JCJ Playoffs. In Elites, three new bowlers enter the Top 8 while in the Juniors, four new bowlers enter the Top 9? Yes, top 9 because there is a tie for 8th this week.
Dakota Degracia tightened the grip on his lead, shooting a 625 scratch set, and increasing his overall lead on #2 Pamela Faller to 54 pins. Biggest jump came from Andrew Ramirez, who's 670 scratch series vaulted him from 14th to 5th. Positions 9-15 are all within 30 pins of the 8th playoff spot.
Aaron Calica continues to pace the Juniors as he holds a 52 pin lead over No. 2 Marco Vartanian who leaped from 7 this week. Biggest jumps came from outside the cut line as Kelsey Griffin moved from T18 to 12th & Janice Tuch moved from 10th to 4th. It's going to be a tight race in the Juniors as positions 2 thru 12 are separated by only 48 pins.
Week 3 Standings
To be determined…
Week 4 Standings
The final round of qualifying for the JCJ Playoffs saw some shifting in the Elites and one new face in the Juniors garner a spot to become the first JCJ Playoff champ.
In Elites, strong efforts by Sean Kim and William Francisco got them into the Top 8. Andrew Ramirez's 708 series vaulted him from 8-4 while Jeremy Tuazon barely held on to the final spot by only 5 pins. Pamela Faller will be the No. 1 seed.
In Juniors, Alan Gonzales slipped into the final spot and all three bowlers from one team (Aaron Calica and Adreian & Andrew Olango) made the cut. Nate Pfenninger overtook Calica for the No. 1 seed.
Playoff finals will be held May 18. If a bowler in the Top 8 does not attend that day then all others move up and we will re-seed accordingly.
Week 5 Standings
Here is the bracket for the JCJ playoffs provided all bowlers show. If a bowler who qualified does not show, then all bowlers move up based on final qualifying standing.
Will be conducted during league play this Saturday. Game 1 (Quarterfinal); Game 2 (Semifinal); Game 3 (Final).
1st place: $100 Gift Certificate to Up Your Alley Pro Shop
2nd place: $50 Gift Certificate to Up Your Alley Pro Shop
3rd place: 10 free games
4th place: 5 free games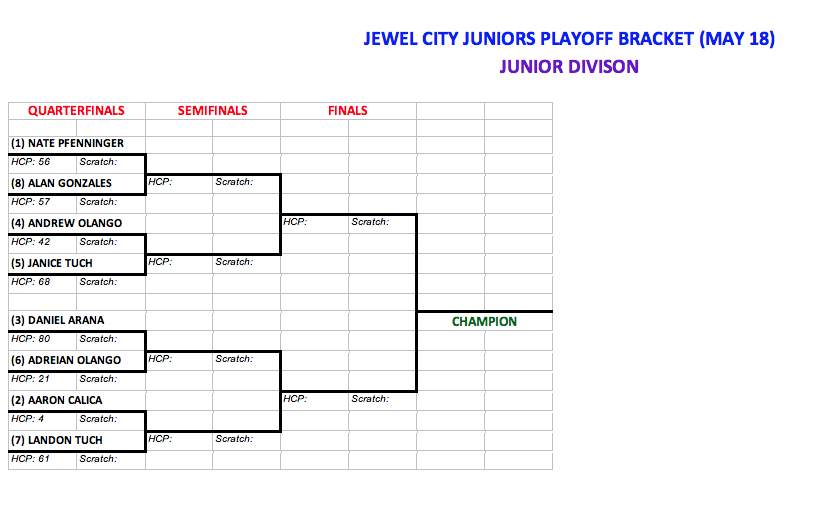 Jewel City Juniors Playoffs – Final Results
Congrats to Daniel Fritz (Elites) & Aaron Calica (Juniors) for winning the inaugural Jewel City Juniors Playoffs. Each will each receive a $100 gift certificate to Up Your Alley Pro shop.
Second place finishers Andrew Ramirez (Elites) & Nate Pfenninger (Juniors) will each receive a $50 Gift certificate to Up Your Alley Pro Shop.
Jewel City Juniors
Champion:  Aaron Calica
2nd Place:  Nate Pfenninger
3rd Place:  Andrew Olango
4th Place:  Adreian Olango
Jewel City Elite
Champion:  Daniel Fritz
2nd Place:  Andrew Ramirez
3rd Place:  Pamela Faller
4th Place:  Sean Kim